St. Wulstan's Church, Thursdays 6.30pm – 7.00pm, followed by Mass
Our Lady of Grace Church, Mondays 9.30am – 10.00am, followed by Mass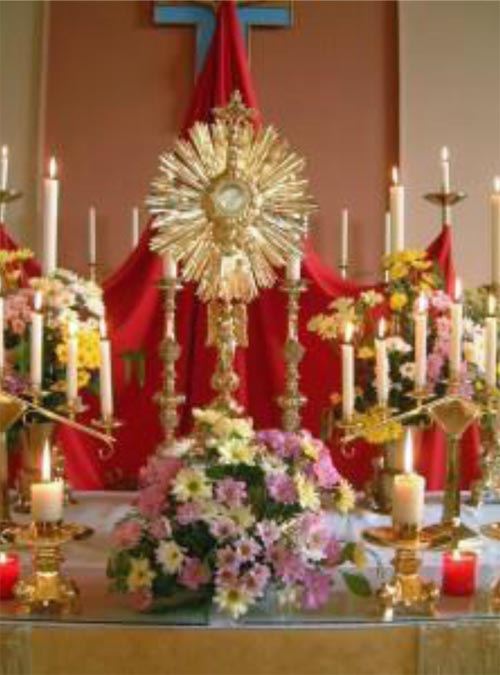 Exposition of the Most Blessed Sacrament is a devotion that reaches back to the 12th century when the desire to see the sacred Host was very much in the minds of the people.
It was St. Gertrude, the 14th century Benedictine nun and mystic, who taught that looking upon the Sacred Host was a meritorious act. By the 15th century Exposition in churches and processions of the Blessed Sacrament had become exceedingly popular. Such devotions declined, however, as a result of the efforts of liturgical reformers, since the Second Vatican Council, to situate the Sacrament more firmly within the context of the Mass, but recent years has seen a return of these old devotional practices to most parishes.
Saturdays being very near and so closely associated with day of the Lord's resurrection, and the day when Masses are celebrated in all parish churches all over the world, is the day when St. Wulstan's Catholic Church, Totteridge has its weekly Holy Hour and benediction for the intention of our parish and for vocations to the priesthood and religious life. This adoration time is directly followed by Mass at 10.00 am.
Our Lady of Grace church, Booker has its own adoration on Wednesday from 10 am to 12.00 noon. People are encouraged to come in, pray and leave as they wish within this particular time range. In our adoration, we pray and ask God to take care of us and all that belongs to us, including our parish of Blessed John Henry Newman, High Wycombe.
Displaying the Most Blessed Sacrament is meant to promote the adoration and worship of Jesus in his hidden but real Presence in the Eucharist. All are welcome to join our worshipping and adoring community.
Short visit to the Blessed Sacrament
(John Henry Cardinal Newman)
I place myself in the presence of Him, in whose Incarnate Presence I am before I place myself there.
I adore You, O my Saviour, present here as God and Man, in Soul and Body, in true Flesh and Blood.
I acknowledge and confess that I kneel before the Sacred Humanity, which was conceived in Mary's womb, and lay in Mary's bosom;
which grew up to man's estate, and by the Sea of Galilee called the Twelve, wrought miracles, and spoke words of wisdom and peace;
which in due season hung on the cross, lay in the tomb, rose from the dead, and now reigns in heaven.
I praise and bless, and give myself wholly to Him, Who is the true Bread of my soul, and my everlasting joy.
Amen.