---
Welcome to the website of the Catholic Parish of St John Henry Newman, which was founded on 1st October 2010, by the Rt. Rev. Peter Doyle, then Bishop of Northampton.
We consist of two Catholic churches: St Wulstan's church in Totteridge and Our Lady of Grace church in Booker.
We are part of the R C Diocese of Northampton whose bishop is the Rt. Rev. David Oakley.
---
Our Parish Newsletter
Our newsletter is an important document which brings to our parishioners all the latest information, including:
Times of Masses and devotions at our two churches.
Details on live streaming of Masses.
Readings and prayers.
Parish and Diocesan notices and news.
Contact details.
TO DOWNLOAD OR VIEW the most recent Newsletter, simply click the link at the top right of this web site.
HAPPY EASTER!!
---
The month of May is dedicated to MARY, the Mother of God!
At the Heart of the Holy Father's wish, the month of May will be dedicated to a marathon of prayer from the theme "From the whole Church the prayer to God went up incessantly. (Act 12,5)" The initiative will involve in a special way all the Shrines of the World, so that they become promoters to the faithful, families and communities of the recitation of the Rosary to invoke the end of the Pandemic. 
---
ACN – Religious Freedom in the World Report 2021
Aid to the Church in Need is a Pontifical Foundation of the Catholic Church, supporting the Catholic faithful and other Christians where they are persecuted, oppressed or in pastoral need.
Click here to view the report from Aid to the Church in Need
To SUPPORT ACN-UK please click on the picture above.
---
Churches are open for Public Worship – NATIONAL LOCKDOWN 3
FROM MONDAY 4th JANUARY
The UK Government has permitted Communal Worship to continue during this new Lockdown as long as social distancing is strictly maintained and that there is no socialising in Church before or afterwards. We hope to keep our Churches open for the celebration of Mass but this will depend on the availability of stewards and on advice from our Diocesan Curia.
We will update the website with the latest information as it is received.
Please DO NOT visit the Parish Office unless this has been pre-arranged.
---
Guidance for Parishioners attending Mass in our churches
A full explanation of the procedures and precautions that are necessary in and around our churches can be found on our COVID-19 page.
Latest updates appear in our Newsletter, which can be downloaded from the link at the top of this page.
---
Live streaming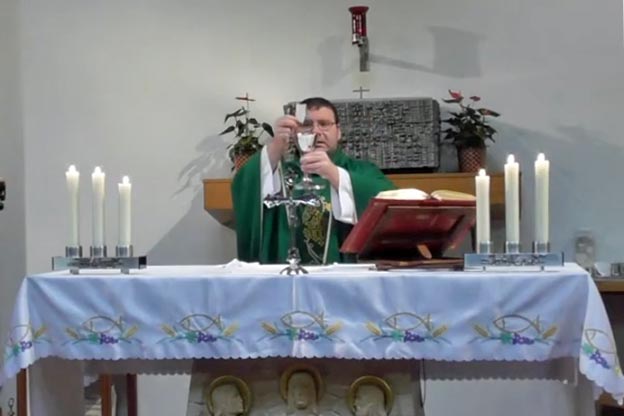 Parishioners can follow Masses on the Parish's YouTube Channel, with times as below.
Today's Readings, Psalm and Gospel provided by Universalis can also be read on our Liturgy web page
Holy Mass at 9.00am on Sundays
at 10.00am on Tuesdays
at 7.00pm on Thursdays
Please, check Newsletter for Mass times on weekdays and eventual changes
SPIRITUAL COMMUNION
My Jesus,
I believe that You are present in the Most Holy Sacrament.
I love You above all things,
and I desire to receive You into my soul.
Since I cannot at this moment receive You sacramentally,
come at least spiritually into my heart.
As You are already there, I embrace You and unite myself wholly to You.
Never permit me to be separated from You.
based on a prayer by St Alphonsus Liguori
REGINA COELI
Regina coeli, laetare, alleluia.
Quia quem meruisti portare, alleluia.
Resurrexit, sicut dixit, alleluia.
Ora pro nobis Deum, alleluia.
Gaude et laetare, Virgo Maria, alleluia.
Quia surrexit Dominus vere, alleluia.
QUEEN of Heaven, rejoice, alleluia.
For He whom you did merit to bear, alleluia.
Has risen, as he said, alleluia.
Pray for us to God, alleluia.
Rejoice and be glad, O Virgin Mary, alleluia.
For the Lord has truly risen, alleluia.
---
Donations
Dear Brothers and Sisters,
Thank you for your continuous help and support. I know we are living in very surreal times.
You all have always contributed to the maintenance of our churches, some through Standing Orders and others via envelopes or cash. But among the impacts of COVID-19, some ways of contributing have become more difficult.
The standing orders are still coming into our account. Others have already started giving online on the Diocesan Website, which is truly appreciated.
I know that some families in our parish might be in financial difficulties and not be able to donate, so they should not feel obliged to do so.
Our DONATE page lists the ways in which you can continue your contribution to our parish. These include an online donation on the Diocesan website, a standing order via the donor's own bank, and our 200 Club. All necessary links and details are included.
Thank you for your generosity!
---
Bishop David's latest Pastoral Letter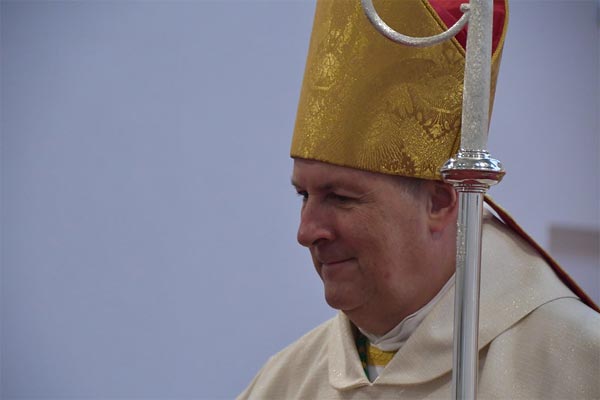 Our Patron: Saint John Henry Newman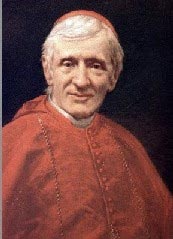 In October 2010, the parishes of St Wulstan's in Totteridge and of Our Lady of Grace in Booker were merged together into one parish & the chapels of St Edmund Campion in Hazlemere and St James' the Great in Downley were joined to the new parish.
The new Parish was dedicated to the XIX Century English cardinal, Saint John Henry Newman, who was beatified by Pope Benedict XVI during his State Visit to the UK on 19th September 2010. He was subsequently canonised by Pope Francis on 13th October 2019 at St Peter's in the Vatican State.