SAINT JAMES THE GREAT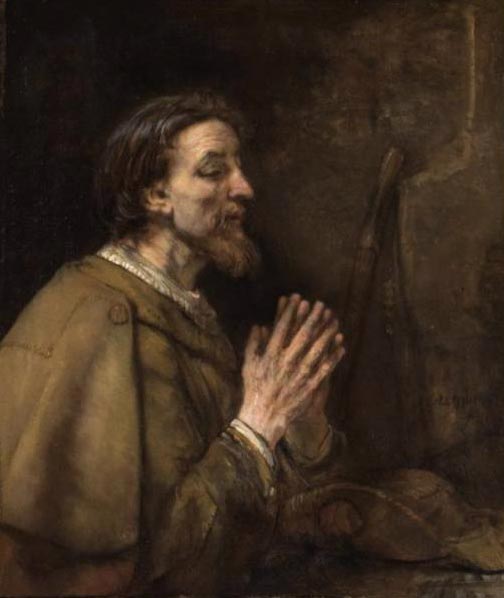 Birth date unknown, martyred 44AD
James, one of the Apostles, was the brother of John. The Gospels record that they were fishermen, the sons of Zebedee, partners with Simon Peter, and called by Jesus from mending their nets beside the Sea of Galilee at the beginning of His ministry. The Gospel lists of the Twelve all include James and John among the first four, and from one of them (Mark chapter 3,verse 17) we learn that Jesus nicknamed them 'the sons of thunder'.
James and John were present at the healing of Peter's mother-in-law, and at the raising of Jairus's daughter. They are described in private conversation with Jesus on the Mount of Olives. They were also present, with Peter, at the Transfiguration, a key event in Jesus's life, and again, the same three disciples are called apart from the others in Gethsemane.
Their mother Salome – or they themselves – asked Jesus to accord them places on his right and his left when he came into his kingdom, when they also declared themselves ready to drink from the same cup as Jesus – i.e. to accept martyrdom. Finally, the sons of Zebedee are specifically mentioned as present at one of the post-resurrection appearances on the lakeshore of Tiberias; and among those gathered in the upper room after the Ascension.
He is known as James the Great to distinguish him from James the Less, or James the brother of the Lord who became a pillar of the Jerusalem community, and is thought to have been the first bishop of Jerusalem (Galatians chapter 1, verse 19 and chapter 2,verse 9).
Thereafter little is known about James the Great, apart from the fact that he was one of the first martyrs of the early church. Acts chapter 2 verse 1 records that he was beheaded by Herod Agrippa in 44AD.
However legend and tradition have it that when the Apostles divided the known world into missionary zones, the Iberian Peninsula fell to James. He is supposed to have spent a number of years preaching in Spain before returning to Jerusalem, and martyrdom. His body is believed to have been miraculously carried to Padrón, on the Atlantic coast of northern Spain, where it was buried. Eight hundred years later his tomb was rediscovered, and the relics authenticated as those of St James by the local bishop. Over the centuries the famous pilgrimage Way of St James developed. This crisscrosses Western Europe to arrive at Santiago de Compostela where his shrine is located and his remains are said to be buried.
James the Great's Feast Day is 25 July.